Every Dog's Dream Rescue, Inc., 1270 State Highway 206, Greene NY 13778 (607) 242-2346

Every Dog's Dream Rescue ...
.....Where we make Every Dog's Dream Come True!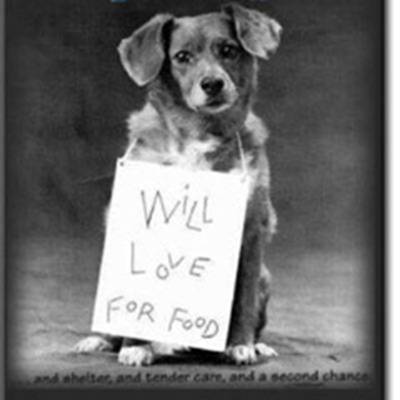 Her eyes met mine as she walked down the corridor peering apprehensively into the kennels. I felt her need instantly and knew I had to help her. I wagged my tail, not too exuberantly, so she wouldn't be afraid.

As she stopped at my kennel I blocked her view from a little accident I had in the back of my cage. I didn't want her to know that I hadn't been walked today. Sometimes the shelter keepers get too busy and I didn't want her to think poorly of them.

As she read my kennel card I hoped that she wouldn't feel sad about my past. I only have the future to look forward to and want to make a difference in someone's life.

She got down on her knees and made little kissy sounds at me. I shoved my shoulder and side of my head up against the bars to comfort her. Gentle fingertips caressed my neck; she was desperate for companionship.

A tear fell down her cheek and I raised my paw to assure her that all would be well Soon my kennel door opened and her smile was so bright that I instantly jumped into her arms. I would promise to keep her safe. I would promise to always be by her side. I would promise to do everything I could to see that radiant smile and sparkle in her eyes. I was so fortunate that she came down my corridor. So many more are out there who haven't walked the corridors. So many more to be saved. At least I could save one.

I rescued a human today.....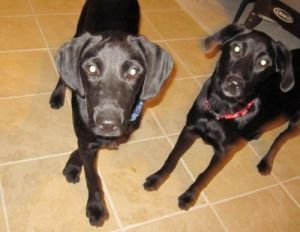 Meet Karl!
Karl was quiet his first day in rescue BUT THEN.... we opened the door to the big back yard and he was one happy camper! Karl loves other dogs, loves to play outside in the yard and lovessss everyone here in rescue. He is a medium sized dog with an incredible black shiny coat. He is doing great with his crate and house training. He has been here for several days and no accidents, no leg lifting, just a great dog! Write to This email address is being protected from spambots. You need JavaScript enabled to view it. for an application!
Mr. Cooper!
Cooper was on the euthansiia list at the shelter and we grabbed him! This guy is awesome! He loves everyone he meets, he has this outgoing personality and just love to be with other dogs. It would be wonderful if we could place Cooper in a home with another dog! He is neutered and current on his shots. Cooper would probably do best in a home without cats. If you would like to adopt Cooper, we can start the process early! Write to This email address is being protected from spambots. You need JavaScript enabled to view it. for an application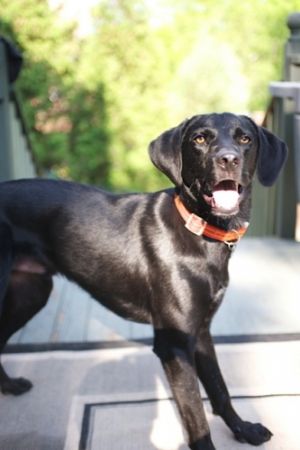 This is Marty!!
One to two year old black lab mix who looking for his forever home. Marty loves people, other dogs and enjoys an active lifestyle. He knows basic commands, is great walking on lead and is looking for a family to love him so he can show his devotion!! Marty would do best with another dog as he loves to romp in the yard and have a buddy to hang out with. . Write to This email address is being protected from spambots. You need JavaScript enabled to view it. for an application on me! I am an awesome dog!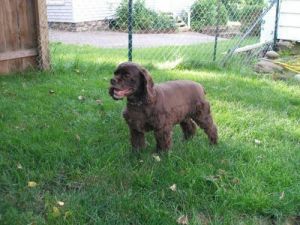 Reece - adorable!
Reece was surrendered to rescue. She has been used for breeding litter after litter of pups. She is now 8 years old and her puppy making days are over. She has been spayed and has her shots updated. She is a doll.... a really sweet doll. Reece is doing well with house training; she came from living in a kennel having liter after litter. If you are interested in adopting this adorable girl, please write to This email address is being protected from spambots. You need JavaScript enabled to view it.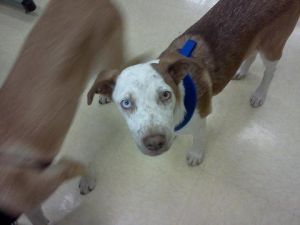 Suki
Suki is an adorable young pup that just came into our rescue. She has the sweetest personality, loves everyone she meets and just has a great time with the old and young dogs in our rescue. She has one blue eye and an amber eye which makes stand out in a crowd! If you would like to meet this gentle girl, please write to This email address is being protected from spambots. You need JavaScript enabled to view it.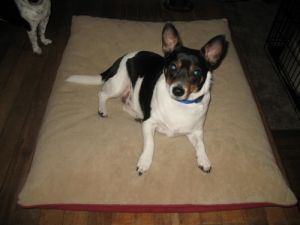 Little Max!
Hello, my name is Max. My foster tells me I am a great little guy but for some reason I keep getting overlooked. I am adorable, Iove to look for a lap to lay on, I am doing great with my crate training and house training. I am pretty low key and am a generous fellow looking to give someone soft kisses and tons of waggy tails. Please inquire about me, I am really a nice dog just waiting here for my forever family. Write to This email address is being protected from spambots. You need JavaScript enabled to view it. for more an application on Max.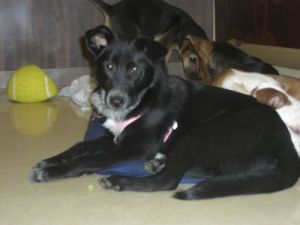 Miss Ronnie!
Ronnie is a smaller dog topping the scales at around 25 pounds. Shey is going to be a small to medium sized dog. She is super sweet and just loves everyone she meets. She is great with all dogs, young and old. She is doing great with house training and crate training. Write to This email address is being protected from spambots. You need JavaScript enabled to view it. for an application.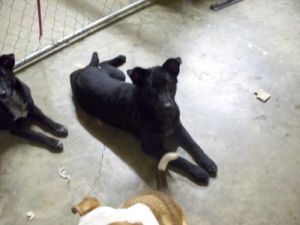 Vicki!
Vicki is one of the most nicest pups we have had in rescue. She lovesssss to give you kisses and loves to give and get attention. She is a real peoplel pleaser. Vicki is doing great with house and crate training. She would make a great people for any family. Write to This email address is being protected from spambots. You need JavaScript enabled to view it. for an application.
Sable
Sable is a gentle soul. She is slowing getting used to her foster home and her foster furry friends. She does well with other dogs and will shy away at first from people, but she will warm up to you as she is doing now with her foster home. It just takes time sometimes when we bring these shy dogs into our rescue. But they will give you unconditional love.... Write to This email address is being protected from spambots. You need JavaScript enabled to view it. if you are interested in an application for this gal.
Diesel!
COURTESY POSTING I am looking for a new home. My name is Diesel and I am around 5 years old. I am a kind soul. I am eager to please my human friends and would love to find a place to finally call 'home'. I am currently living with a person that has other dogs and while I tolerate them, I would much rather have my own space. If you are interested in meeting me, please call Nikki at 607-221-7272. A home visit and vet references will be required before my adoption to make sure I go to a safe place. Neutered, current on shots and 5 years old.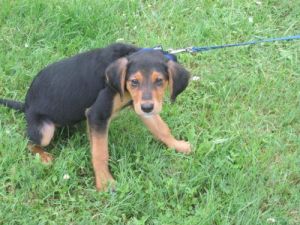 Tucker Boy!
Tucker and his sister Emma have arrived in our rescue. They are not going to be big dogs, most likely medium sized when full grown. Tucker is great with all of the dogs in the foster home! Write to This email address is being protected from spambots. You need JavaScript enabled to view it. for an application.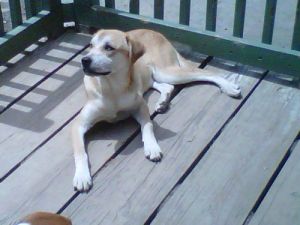 Huck!
Huck came into the rescue in February. He was exposed to pups that had mange and was on hold for some time just as a precaution. He never did get mange. He is a sweet boy with a great temperment. Huck has an underbite which makes him look like an old dog. He's not! He is around 6-7 months old and has your typical puppy energy. Everyone that meets him will ask me how old is your dog. I smile and say 7 months and then I get this shocked look. He is a thin tall dog and is doing great with crate training. He will appear to be shy at first but does warm up. We would prefer that Huck have a fenced in yard and should go with another dog, he would blossom with a buddy! Contact This email address is being protected from spambots. You need JavaScript enabled to view it. if you would like to fill out an application.
Meg
Little Meg is an adorable shep mix that has just arrived in our rescue. She is sweet, fun loving and just your typical playful pup! Write to This email address is being protected from spambots. You need JavaScript enabled to view it. for an application on Meg.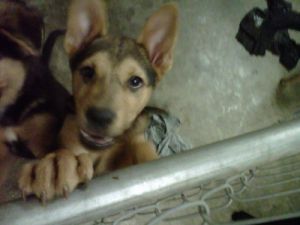 Ally girl
Tig, what a doll! He has arrived today along with his sibling, covered in poooo, had fun on their way here in their crate apparently. One messes, they all do! Now clean and settling in. Write to This email address is being protected from spambots. You need JavaScript enabled to view it. for an application on Tig.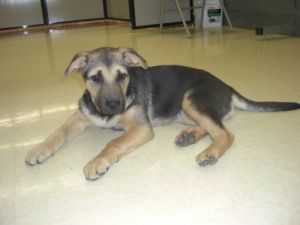 Sandy
Sandy is a such an adorable shep mix. She is a little shy when first meeting people but we are working with her and she is coming around just wonderfully. Sandy is spayed and current on her shots. She is still puppy in potty training but is working on it. She is around 4 months old! Write to This email address is being protected from spambots. You need JavaScript enabled to view it. if you would like an application.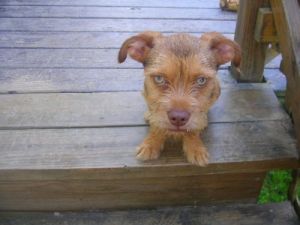 Wolfie
Hello World! Now that I have your attention.... Wolfie here.... looking to find a cool pad to hang out at. I tried to get my face as close as I could to that camera but she wouldn't come any closer. They hate it when we lick the lens... I am arriving at Every Dog's Dream rescue around July 15th. If you would like to start the adoption process early, you can contact Audrey at This email address is being protected from spambots. You need JavaScript enabled to view it. and she will send you an application for me. Thanks! Wolfie....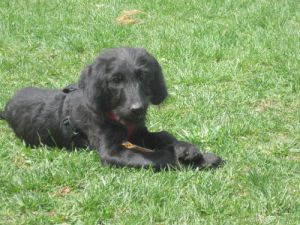 Indy!!!
Indy is an sweet dog looking for a home to call his own. He is doing great with house and crate training. He loves everyone he meets and is just a joy to have around at your side. Write to This email address is being protected from spambots. You need JavaScript enabled to view it. for an application on Indy!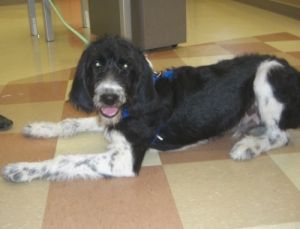 Skipper Boy
Skipper is a super sweet teen that does great with other dogs. He loves to run in the yard and chase after the others trying to get their attention. Skipper is tall for his age and he looks stunning. He is a super sharp looking dog. He does well in his crate and is mastering the leash walking. He does tend to wonder at times but that is typical with any young dog that has a little hound mix in him. We love this dog and we would just love to see him go to an active family that will make sure he gets the exercise that he needs. He can be a big goof ball and drive you crazy some times, but then he can just melt your heart with his loveable side..... If you would love to meet this adorable pup, write to This email address is being protected from spambots. You need JavaScript enabled to view it. for an application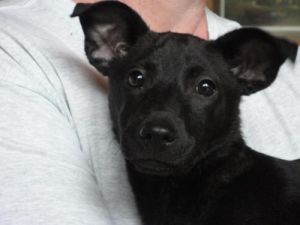 Kera
Krista is a social butterfly.... she is great with all of the dogs in rescue and just loves to snuggle in for a good nap. While Krista loves the other dogs, she and Kera tend to 'herd' the crew by nipping at their legs and hind quarters. She does chase the cats in the foster home sooo maybe no cats for this little one. Krista is doing well on leash and has started crate training. Krista will not be adopted to families with young children (over 12 please). Contact This email address is being protected from spambots. You need JavaScript enabled to view it. if you are interested in meeting Krista or Kera!
We are funded on donations only! Please support our rescue. We take in many special needs and the cost to care for them increases every day. We need your help. Even if it is $5.00, it will all add up to help care for the dogs that come in the leg issues, puppies with mange, etc. You can mail your check to: Every Dog's Dream Rescue, Inc., 1270 State Highway 206, Greene, NY 13778 Thank you!